Synthetic Turf: Exposures to Ground Up Rubber Tires on Athletic Fields and Playgrounds
Archived studies and news reports that expand the scope of Environment & Human Health, Inc.'s (EHHI) research reports about health and the environment.
EHHI releases new synthetic turf report
Environment and Human Health, Inc. (EHHI) has released its new report, Synthetic Turf: Industry's Claims Versus the Science. Industry continues to claim that there are studies that prove the synthetic turf fields and rubber mulch playgrounds are safe. EHHI spent a year carefully reading these studies and summarizing the findings in an easily accessible report. Click here to download EHHI's new report.
Crumb rubber from recycled tires contains harmful compounds
Research conducted at Yale University on crumb rubber yielded 92 separate compounds, of which only about half have been tested for human health effects. Of these, nine are known carcinogens and another 20 are recognized irritants. The study found measurable amounts of lead and cadmium, and relatively large amounts of zinc. Click here to read the article by Gaboury Benoit in Water, Air & Soil Pollution.
As of March 2018, 253 soccer players have cancer, 116 of them goalkeepers
These are the latest reported cancers among soccer players who have known to report their cancers to University of Washington associate coach Amy Griffin. Blood cancers account for 155 of the 253 cases. Click to read the list of cancers by type.
Synthetic turf fiasco at Buffalo/Pittsburgh football game dubbed "PELLET-GATE"
The second half of the Pittsburgh Steelers-Buffalo Bills game was held up due to a buildup of black rubber pellets that had been scraped from the turf surface. Batavia Turf Instant Lawns owner Craig Yunker says artificial fields produce hazardous waste, and the incident raised concerns about player safety. Click here to watch the video.
The 100-yard deception: FieldTurf executives misled towns and schools about deteriorating fields
When the hottest-selling artificial turf fields began to fall apart, executives of FieldTurf put profits over the good of their biggest customer — the unwitting taxpayer. An in-depth investigation in a three-part series. Click here to read the story.
New Jersey lawmakers call for fraud investigation and action against FieldTurf
The industry-leading artificial turf company, FieldTurf, aggressively marketed defective artificial sports fields and misled schools and municipalities. Now legislators are calling for investigations and a class-action lawsuit to hold the company accountable for widespread deception. Click here to read the story.
Amsterdam says "no" to rubber granules in artificial turf
Amsterdam will not accept rubber granules in new artificial turf fields. The people have lost confidence in the granules, officials say. Tire industry association VACO did its own, separate analysis and found that 58 out of 60 artificial turf fields contain a higher concentration of carcinogenic substances than consumer standards allow. Click here to read the story.
Are synthetic playing surfaces hazardous to athletes' health?
As the debate rages over crumb rubber's links to cancer, the Los Angeles Times tells the story of one young athelete's Hodgkin's lymphoma. Click here to read the story.
Chemical analysis conducted at Yale University on crumb rubber infill and playground rubber mulch
The analysis conducted at Yale University found 92 chemicals in the synthetic turf and rubber tire mulch used as surfacing in toddler playgrounds. Of the chemicals detected — a little under a half have had never had toxicity assessments for their health effects. Of the rest, 20% are probable carcinogens. Click here to read the analysis.

Analysis of metals conducted at Yale University on crumb rubber infill and playground rubber mulch
The analysis conducted at Yale University shows that metals are present in, and presumably released from, the crumb rubber. The metals released from the various samples are very different, reflecting the lack of standardization in the shredded waste tires. This is because tires are collected from all over the country and then put into shredding machines. There is no standardization — and in fact the tires come from trucks, cars, and as many different kinds of vehicles as you can imagine. Click here to read the analysis and here for analysis methods.
New synthetic turf fields proposed: Did the state Department of Health claim the fields were safe?
The Connecticut Department of Health took the position that synthetic turf fields were safe years before they, or any one else, had tested them. Click here to read the OpEd.
Who are the "rented white coats" who defend toxic chemicals?
Meet the "scientists for sale" in a world where corporate interests dictate findings and scientists for hire willingly oblige. Click here to read more.
CT closes vocational high schools and cuts school breakfasts—while spending $3 million on a synthetic turf field
The state approved $3 million for a synthetic turf field (even as the federal government evaluates the fields' safety). The CT State Board of Education also endorsed a proposal to close two vocational technical high schools, end all athletic programs and cut reimbursements to schools that provide school breakfast and healthy foods. Click here to read the story.

Senators Asked Obama White House For Crumb Rubber Turf Study
U.S. Sens. Bill Nelson (D-FL) and Richard Blumenthal (D-CT) asked former president Barack Obama to initiate a comprehensive federal-led study into potential health risks, given concerns about cancer. Click here to read the press release.

California Senate cites EHHI's study in artificial turf debate
A hearing in the California Senate provides a good overview of crumb rubber issues, citing EHHI's study at the Yale School of Forestry and Environmental Sciences. Click here to watch the video.
Two worn soccer fields with artificial surfaces closed in Las Vegas, deemed unsafe
The fields, which opened in 2007, have literally been torn to pieces. Large chunks of turf are missing in several areas and the seams between turf sections are showing. Now, studies across the country, including one undertaken by Gaboury Benoit, an environmental chemist and professor at the Yale School of Forestry and Environmental Sciences, suggest that "crumb rubber" contains carcinogens.
Click here to read the article.
Massachusetts legislators submit letter to United States Consumer Product Safety Commission
Massachusetts delegates asked the CPSC to regulate interior and exterior use of crumb rubber as a children's product to ensure the safety of children and adults who use crumb rubber artificial turf fields.
Click here to read the letter to CSPC.

Leachability: chemicals of concern found in the air, water, and soil adjacent to crumb rubber and other recycled tire products
Chemicals and heavy metals leach out of the small crumb rubber in synthetic turf fields at a greater rate even than the rubber mulch. "The smaller the particle size, the greater the potential for leaching," according to the WASHINGTON STATE UNIVERSITY EXTENSION FACT SHEET * FS163E.
Click here to download the publication.

Empire State Consumer Project (ESCP) 2015 Children's Products Safety Report
The Empire State Consumer Project found arsenic, cadmium, and zinc at "higher than current acceptable limits." ESCP says it's the only consumer agency conducting chemical safety testing on artificial mulch made from ground up tires.
Click here to read page 34-35 of the publication.

Physicians and health professionals warn of potential health problems
"The safest material for students and athletes to play on is grass. We believe that what has happened with synthetic turf fields has been a massive failure of government to protect the public by allowing shredded-up waste tires to get into the market place and put where children, students and athletes play." Click here to read the letter in the New Haven Register.

Synthetic turf industry lobbies up in safety fight
The synthetic turf industry is retaining lobbyists to defend against allegations that rubber infill could be toxic. A NBC News investigation featured a number of young athletes who contracted cancer they say is linked to crumb rubber in artificial turf fields. Click here to read more.
EHHI analyzes the Connecticut study of 2010
Because the synthetic turf industry has claimed that the CT Department of Health study shows that synthetic turf fields were safe, Environment and Human Health, Inc., felt it important to closely analyze the actual study to see what it really said. The study only looked at the health risks to those 12 years and up — yet many younger children also play on these fields. Click here to read Human Health Risk Assessment of Artificial Turf Fields Based Upon Results from Five Fields in Connecticut. On careful reading you will see the flaws in the study and all their stated limitations. It is hard to believe that the researchers could declare that their data showed the fields were safe. Click here to read EHHI's detailed analysis of the study.
News items are not independently verified by EHHI and inclusion on this site does not constitute an endorsement.


EHHI's Synthetic Turf Report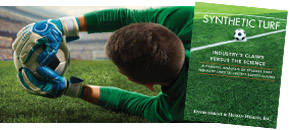 Concern is growing about children's exposures to ground-up rubber tires used as the infill material in synthetic turf fields. Such fields have been installed, or are being proposed, in towns all over Connecticut and many other states.

Synthetic Turf: Industry's Claims Versus the Science is a careful analysis of studies that industry uses to justify safety claims.

For further information about synthetic turf, click to read EHHI's report, Synthetic Turf: Industry's Claims Versus the Science or click here for more about synthetic turf fields and playgrounds.