Steps to Reducing Carcinogenic Exposures
Archived studies and news reports that expand the scope of Environment & Human Health, Inc.'s (EHHI) research reports about health and the environment.
e-cigarettes linked to incurable disease called "Popcorn Lung"
A study at the Harvard School of Public Health found 75% of e-cigarettes contain diacetyl, a chemical flavoring used in popcorn and known to damage lungs. While e-cigarettes are a fairly new technology, researchers warn that they contain other cancer-causing chemicals, including formaldehyde. Click here to read more.


EHHI urges action to protect children and pregnant women from vehicle exhaust and cancer-causing exposures
Environment and Human Health, Inc.'s (EHHI) report calls for tougher standards to regulate vehicle emissions — especially for children and pregnant women. EHHi urges stronger precautionary regulation of carcinogenic chemicals by the federal government. Click here to download EHHI's report.

The Dirty Truth About "Clean Diesel"

Automakers have worked hard to convince consumers that a new generation of "clean diesel" cars are far less polluting, but recent scandal reveals that diesel exhaust is filled with potentially deadly particulate matter. PM 2.5 particulate matter (smaller than 2.5 microns, or one-thirtieth the width of a human hair) allows carcinogens to penetrate deep into tissues and organs. Click here to read the news story.


Documents show industry hid data on toxic chemicals



Decades ago, a Harvard School of Public Health scientists said, "the only absolutely safe concentration for benzene is zero." Now, the Center for Public Integrity has created a searchable database

showing a pattern of coverup by industry. Click here to read the news story.

An American tragedy: benzene and worker cancers
For decades, the petrochemical industry spent millions seeking to minimize the dangers of benzene, a carcinogen tied to leukemia and other cancers. The Center for Public Integrity released documents showing that industry spent at least $36 million on research "designed to protect member company interests.

Click here to read the news story.



News items are not independently verified by EHHI and inclusion on this site does not constitute an endorsement.


EHHI's Cancer Brochure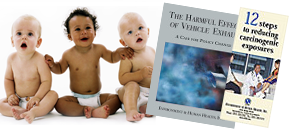 Exposures to both cancer-causing chemicals and particulate matters in vehicle exhaust are particularly dangerous to children and fetuses whose brains and bodies are rapidly developing. Most people assume that the U.S. Environmental Protection Agency is sufficiently protecting air quality by setting limits for chemicals released from vehicles, but these efforts are not enough to protect health.

For further information about the harmful effects of vehicle exhaust, download EHHI's report on vehicle exhaust and learn how to avoid cancer-causing chemicals with 12 Steps to Reducing Carcinogenic Exposures.