Cell Phones: Technology, Exposures, Health Effects
Archived studies and news reports that expand the scope of Environment & Human Health, Inc.'s (EHHI) research reports about health and the environment.
EHHI's Cell Phone Report Calls for More Responsible Management to Protect Children and Pregnant Women
Environment and Human Health, Inc.'s (EHHI) report calls for tougher standards to regulate cellular technologies — especially for children and pregnant women. The study says the scientific evidence is sufficiently robust showing that cellular devices pose significant health risks to children and pregnant women. The weight of the evidence supports stronger precautionary regulation by the federal government.

CDC internal emails reveal children's health risk information was deleted under industry pressure

A Freedom of Information Act (FOIA) request shows CDC officials retracted warnings about cell phone radiation. Information on cell towers never saw the light of day and a scientist affiliated with the wireless industry acted as a consultant to the CDC. Environmental Health Trust posted 500+ internal CDC emails detailing how the cell phone industry directed changes in the CDC website content. Click here to read the emails and see how radiation is absorbed in children.


French government bans WiFi in pre-school childcare facilities
The French National Assembly has adopted a bill to limit exposure to electromagnetic fields (EMFs) generated by wireless technologies — cell phones, tablets, Wi-Fi and more.
Click here for news story.
Fetal Radiofrequency Radiation Exposure from 800-1900 Mhz-Rated Cellular Telephones Affects Neurodevelopment and Behavior in Mice
Environment and Human Health, Inc.'s (EHHI) cell phone study was conducted at the Yale School of Medicine and published in Nature, March 15, 2012. Dr. Hugh Taylor, member of EHHI, was the lead researcher. "An association between prenatal cellular telephone use and hyperactivity in children has been postulated, yet the direct effects of radiofrequency radiation exposure on neurodevelopment remain unknown. This study used a mouse model to demonstrate that in-utero radiofrequency exposure from cellular telephones does affect adult behavior. Mice exposed in-utero were hyperactive and had impaired memory as determined using the object recognition, light/dark box and step-down assays."
News items are not independently verified by EHHI and inclusion on this site does not constitute an endorsement.


EHHI's Cell Phone Report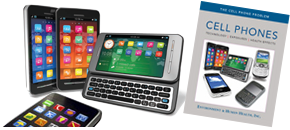 Children between the ages of 8-18 spend an average of 7.5 hours per day — nearly half their hours while awake — on smart phones, computers, televisions or other electronic devices. Exposures to electromagnetic radiation are increasing most rapidly among the youngest in our society, as service providers focus their advertising on children and educational markets.

A recent International Agency for Research on Cancer (IARC) report suggested that exposures to electromagnetic fields (EMFs) can be more devastating in children. Children's EMF exposures are a particular cause for concern. Studies show that children's brains can absorb up to three times as much radiation, compared to an adult's brain.

For further information about the health effects of cell phone exposures, download EHHI's report or click here to learn more.