Pesticides in Private Drinking Water Wells
A Survey of Private Drinking Water Wells for Lawn and Tree Care Pesticides in a Connecticut Town
EHHI's report shows that lawn and tree care pesticides are capable of filtering down through the soil and entering residential drinking water wells, even deep wells. Click here to read the press release.
EPA Resources for Homeowners with Private Drinking Water Wells
Private well owners are responsible for the safety of their water. The EPA's website educates well owners on wells, groundwater, and information on protecting their health. Click here for links to help you protect your well and groundwater.

What you need to know about uranium in private well water
Uranium, which has no smell or taste, is naturally present in bedrock in many places throughout Connectiut. When a drinking water well is drilled into bedrock containing uranium, the metal can get into the well water. Click here for more information from the Connecticut Department of Public Health, Environmental Health Section.

News items are not independently verified by EHHI and inclusion on this site does not constitute an endorsement.


EHHI's Report on Pesticides in Private Wells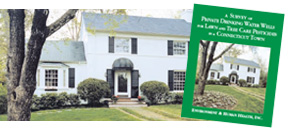 EHHI's study of private drinking water wells demonstrates that further testing of private wells is needed and that greater protection of drinking water supplies from pesticides is indicated. Approximately 500,000 people in Connecticut get their drinking water from private residential wells which remain largely untested for pesticides.

For further information about pesticides in private drinking water wells, download EHHI's report or click here for more on EHHI.