Flame Retardants: The Case for Policy Change
Archived studies and news reports that expand the scope of Environment & Human Health, Inc.'s (EHHI) research reports about health and the environment.
Michigan's bald eagles full of flame retardants
Michigan's bald eagles are among the most contaminated birds on the planet when it comes to phased-out flame retardant chemicals in their livers. A study published in the Journal of Great Lakes Research found that the top predators in the Great Lakes are highly exposed to banned flame retardants, still widespread in the environment..

Mattress company Naturepedic makes certified organic mattresses
Naturepedic specializes in the design and manufacturing of independently certified organic mattresses for adults and children that promote natural and organic materials without chemical flame retardants. As part of Naturepedic's ongoing sustainability efforts, the company reported that it has joined the EPA Green Power Partnership, pledging to support renewable energy for its operations.
Click here for news story.
Sen. Charles Schumer Proposes Ban On 10 Flame Retardants In Children's Products
Sen. Charles Schumer (D-NY) is proposing legislation to ban 10 flame retardants from upholstered furniture and children's products, saying the chemicals have been linked to developmental delays and cancer. A recent study by the Environmental Working Group and Duke University found children at particular risk from dust containing the toxins.
Click here for news story.
News items are not independently verified by EHHI and inclusion on this site does not constitute an endorsement.


EHHI's Flame Retardants Report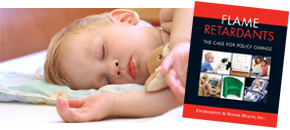 In the 1970s, a flame-retardant called "Tris" was added to children's sleepwear. Tris was later found not only to be carcinogenic, but also capable of being absorbed through the skin. Tris was finally banned in children's sleepwear in 1977. Unbelievably, however, Tris is still used in many other infant products, such as crib mattresses, changing tables, nap mats, and infant car seats. Flame-retardants are now ubiquitous in our environment.

Recent toxicological studies demonstrate that flame-retardants pose the greatest risk to the normal growth and development of fetuses, infants and children.

For further information about the health effects of exposures to flame retardants, download EHHI's report or click here to learn more.