Risks from Lawn-Care Pesticides
Archived studies and news reports that expand the scope of Environment & Human Health, Inc.'s (EHHI) research reports about health and the environment.
Glyphosate (Roundup) linked to celiac disease
Researchers note an alarming rise in the incidence of celiac disease in the United States and elsewhere in recent years, and theorize that gluten intolerance is due to an increased burden of herbicides, particularly glyphosate exposure in the diet. Glyphosate has also been linked to Parkinson's disease, infertility, depression, and cancer. Click here for news story.


Atrazine joins Glysophate on list of toxic pesticides
The state of California has been working to list atrazine — the United States' second most-widely used herbicide — as toxic to the reproductive system under the state's Proposition 65. The World Health Organization's International Agency for Research on Cancer (IARC) has classified glyphosate — the active ingredient in the pesticide Roundup — as a probable human carcinogen.
Click here for news story.

Dogs absorb chemicals from pesticide-treated lawns
Dogs are being exposed to garden and lawn chemicals associated with bladder cancer, according to a study led by Deborah Knapp of Purdue University's Department of Veterinary Clinical Sciences. Researchers suggest that owners who use herbicides should allow lawns to dry before allowing pets to walk on the grass. Wash the dog's feet every time it comes inside. Alternate weekly treatments to front and back yards to reduce exposures.
Click here for news story.



Connecticut Pesticide Notification Registry


The pesticide pre-notification registry allows Connecticut residents to be notified when their abutting neighbors have their property commercially treated with pesticides. Click here for the registration form to sign up on the CT Pesticide Notification Registry.






News items are not independently verified by EHHI and inclusion on this site does not constitute an endorsement.


EHHI's Pesticide Report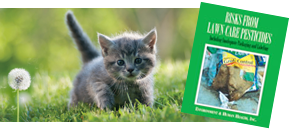 Some chemicals commonly used on lawns and gardens have been associated with birth defects, mutations, adverse reproductive effects, and cancer in laboratory animals. Children, infants, and fetuses may be especially vulnerable to the health effects of pesticides before the age of five, when their cells are normally reproducing most rapidly.

For further information about lawn-care pesticides, download's EHHI report or click here for additional information.