Plastics That May Be Harmful to Children and Reproductive Health
BPA Exposure in utero is a pervasive threat
A new study presented at ENDO 2016 revealed a possible link between bisphenol A (BPA) exposure in utero to breast cancer later in life. BPA is especially prevalent as a component used in rigid plastic products such as food and beverage containers, can linings, and glossy paper receipts. Click here to read the article.
Bisphenol S in thermal receipts as hazardous as Bisphenol A (BPA)
How safe is structurally similar bisphenol S (BPS), a widely used BPA replacement? Researchers say it appears that "BPS and BPA are equally problematic" in terms of toxicity. Click here for an open-access article from Environmental Health Perspectives.

Yale study explains how Bisphenol A (BPA) chemically modifies DNA
EHHI Board member Hugh S. Taylor, MD, director of the reproductive endocrinology and infertility section of the Yale School of Medicine, says plastics containing BPA cause permanent changes that can lead to cancer in mice. Click here for news story.

FDA relied on chemical industry lobbyists to discredit studies warning of BPA risks
Emails obtained by the Wisconsin Journal Sentinel show that the FDA asked the chemical industry to study BPA. Commonly used in the manufacture of hard, clear plastic for food product containers, BPA is found in the urine of 93% of Americans. It has been linked to neurological defects, diabetes, breast and prostate cancer and heart disease.
News items are not independently verified by EHHI and inclusion on this site does not constitute an endorsement.


EHHI's Plastics Report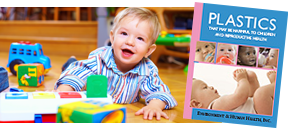 Nearly 100 billion pounds of plastic are produced in the United States each year. Plastics are heavily used in food and beverage packaging, building products, electrical wiring, vehicles, furniture, toys, and medical devices. There is increasing evidence that two plastic ingredients, bisphenol A (BPA) and Di(2-ethylhexyl) phthalate (DEHP), disrupt normal growth and development in many different species of animals due to their hormonal activity.

For further information about plastics, download EHHI's report or click here for more about plastics.