Harmful Effects of Vehicle Exhaust
Archived studies and news reports that expand the scope of Environment & Human Health, Inc.'s (EHHI) research reports about health and the environment.
Exposure to small particle pollution linked to heart-disease death
A study involving 100,000 middle-aged women in California linked death from heart disease to exposure to soot found in car exhaust, cooking smoke and diesel pollution. Click here to read more.


EHHI urges action to protect children and pregnant women from vehicle exhaust and cancer-causing exposures
Environment and Human Health, Inc.'s (EHHI) report calls for tougher standards to regulate vehicle emissions — especially for children and pregnant women. EHHi urges stronger precautionary regulation of carcinogenic chemicals by the federal government. Click here to download EHHI's report.

The Dirty Truth About "Clean Diesel"

Automakers have worked hard to convince consumers that a new generation of "clean diesel" cars are far less polluting, but recent scandal reveals that diesel exhaust is filled with potentially deadly particulate matter. PM 2.5 particulate matter (smaller than 2.5 microns, or one-thirtieth the width of a human hair) allows carcinogens to penetrate deep into tissues and organs. Click here to read the news story.

News items are not independently verified by EHHI and inclusion on this site does not constitute an endorsement.


EHHI's Report on Vehicle Exhaust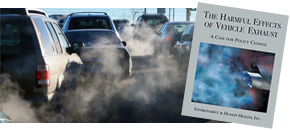 Particulate matter in vehicle exhaust is particularly dangerous to children and fetuses whose brains and bodies are rapidly developing. Most people assume that the U.S. Environmental Protection Agency is sufficiently protecting air quality by setting limits for chemicals released from vehicles, but these efforts are not enough to protect health. Regulations limit only a small percentage of all chemicals that are emitted from vehicle engines.

For further information about the harmful effects of vehicle exhaust, download EHHI's report on vehicle exhaust.